A Devotional and Journal for Those Healing From Trauma & Abuse. Within these pages you'll find:
– Daily devotionals
– Encouragement
– Prayers
– A Dot Journal
– Coloring Pages
This devotional and journal is created with you in mind and can be a safe space to process your thoughts while you walk this road to healing.
Courage. It's a big word, isn't it? For some it means being brave when faced with scary situations. For others, courage is an inner fortitude which keeps us heading in the right direction when we'd rather head in another. Still others define courage as the ability to move past painful, traumatic circumstances and still contribute something beautiful to this world. The truth is… courage is all this, and more. This anthology brings together true and fictional stories, essays, and poems that consider the concept of courage that will make you laugh, move you, and encourage you.
A Novel, and Winner of the ACFW First Impressions Contest
Avery Morgan's husband isn't who she thinks he is. Discovering his true nature and a dark plot, Avery becomes entangled in a fight for her own survival. But what hope does she have when everyone keeps telling her that her fears are all in her head?
A Novel, and Winner of the ACFW Crown Award
Natalie Lawrence has lost everything — including her marriage — in her battle with an autoimmune disease. Convinced she is unlovable, she swears off relationships and focuses on rebuilding her life and career. But what will Natalie do when a man enters her life, determined to prove she is worthy of love?
What's On My Reading List
I constantly have my nose in a book… or three. Here are the titles that are currently on my nightstand, desk, and coffee table (or just about anywhere else in the house you can imagine).

What about you? Send me a note and let me know what you're reading, or tell me about your favorite book. I'm always looking for recommendations, and I bet you have a great one!
The Last thing he told me
When a woman's husband goes missing, she and her step-daughter seek the truth about his disappearance at any cost.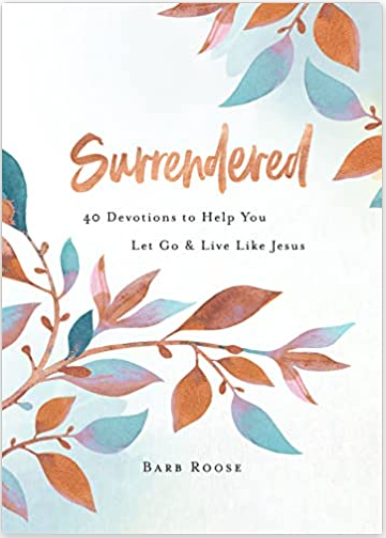 Surrendered: 40 day devotional
This 40 day devotional talks about surrendering control and worry in order to let us live with freedom and joy.
Self-Editing for Fiction Writers
By Renni Browne and Dave King
It's not enough to be a good writer; one also has to be able to edit their work well. This book is a fantastic resource for learning how edit effectively.
<!—-><!—->
<!—->
<!—->
<!—->
<!—-><!—->
<!—->
<!—->
<!—->
Growing up, I read J.R.R. Tolkien's novels, The Hobbit and The Lord of the Rings, until the spine had cracked […]
<!—-><!—->
<!—->
<!—->
<!—->
<!—-><!—->
<!—->
<!—->
This summer, I started doing a daily yoga practice. The physical and mental health benefits have surprised me. I've pushed […]
<!—-><!—->
<!—->
<!—->
<!—->
<!—-><!—->
<!—->
<!—->
<!—->
Have you noticed how often we hear quotes and see posts about how we are the authors of our own […]